Awareness Food Hygiene Certificate for Manufacturing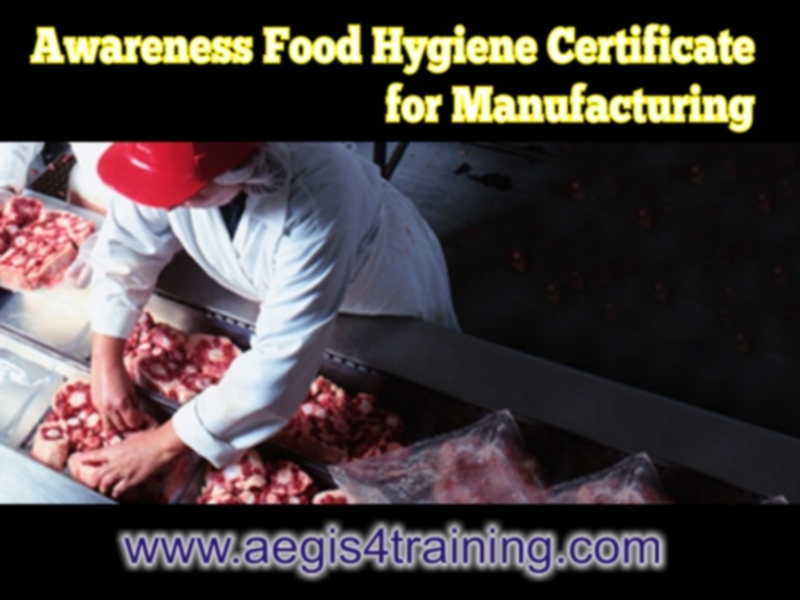 Excellent manufacturing processes are important to the production of healthy food. Employees, whatever their role must understand why they are being asked to achieve certain standards and perform to a high level. Without understanding what is being demanded no one will perform consistently. In today's food manufacturing environment, even a small chance of failure is too high.
Awareness of food hygiene for manufacturing, whether it involves preparing, cooking, packing or processing food, you must ensure that the food you handle is free from contamination and safe for the final consumer to eat.
This is a legal requirement, and this Level 2 Food Hygiene Certificate for Manufacturing course will ensure you fully understand you obligation and responsibilities in order to abide the law, deal with food safety hazards and keep your manufacturing workplace clean and free from pests.
This on line course is intended for all food handlers in the manufacturing sector to suit their legal obligation to undertake training. The course is intended for food handlers working in the food and drink manufacturing industry and is suited to anyone working in food storage, packing, processing or assembly.
Trainee will gain a knowledge of good hygiene and safety issues. The course covers food industry regulations, with reference to employees preparing, cooking and handling food in manufacturing based settings.
The content of the course includes:
• Pest Control
• Personal Hygiene
• Cleaning & Disinfection
• Food Poisoning
• Bacteriology
• Prevention of Contamination
• The Law
• Manufacturing Premises and Equipment
By the end of this course learners will:
• Learn the importance of personal hygiene.
• Learn the best food handling practice.
• Learn the importance of keeping manufacturing equipment clean and maintained.
• Learn how to prevent cross contamination and keep the customer safe from food poisoning.
• Learn how to apply food safety controls to achieve higher standards of food hygiene.
• Learn to be able to help keep the workplace clean and hygienic and free from pests.
Upon completion of the course you will be sent a quality assured certificate through the post the next working day. This can be used to provide evidence for compliance and audit.
All of our courses are accredited by the CPD Certification Service as conforming to universally accepted Continuous Professional Development (CPD) guidelines.
This course is also accredited by RoSPA, the Royal Society for the Prevention of Accidents, as providing quality and content-approved training.
BUY OUR ONLINE FOOD SAFETY TRAINING VIDEO NOW!