Online Interactive Training Courses Low Cost, Quality Courses.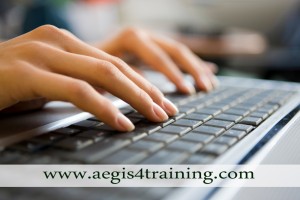 Aegis 4 Training, online training are convenient and affordable, and our online courses offers you the opportunity to get the professional edge you're looking for.
You'll always have access to your Trainer for the one-on-one support you want, when you want it.  Each Aegis 4 Training instructor has been specially trained to meet the individual needs of every Aegis 4 Training student – from transferring your credits quickly and easily to assisting you throughout your time at Aegis 4 Training. Getting started is easy.
If you have a demanding work schedule, need to save money on gas, or want to spend more time at home with your family, getting your course online.
If you ask most people why they choose to learn online, the most common response you'll get is, "It's just more convenient."
But the benefits of online learning go beyond mere convenience. In fact, you may find the online environment is more conducive to your individual learning style. If you are a motivated self-starter who enjoys online interaction through social media sites, email, and other interactive means, you may find that online learning is the right fit for you.
Reasons for Learning Online
You can access course materials 24 hours a day, 7 days a week.
You can learn from qualified instructors, broadening your perspective.
You'll enhance your ability to communicate effectively through the latest technology.
You'll network with classmates from a wide range of backgrounds and locations.
You can access instructors immediately through chat, discussion thread, or email, without having to wait for office hours.
You'll have access to a broad spectrum of relevant content through your online course Web site.
You could earn higher grades because you can learn at your own pace.
You'll learn innovative strategies for virtual teamwork by using electronic communication to interact with a group. Employers highly value this skill.
You'll benefit from a flexible schedule, which is extremely helpful if you're balancing your education with work and family life.
For more info please visit our WEBSITE!