Emergency Escape Hood Oxygen Mask Respirator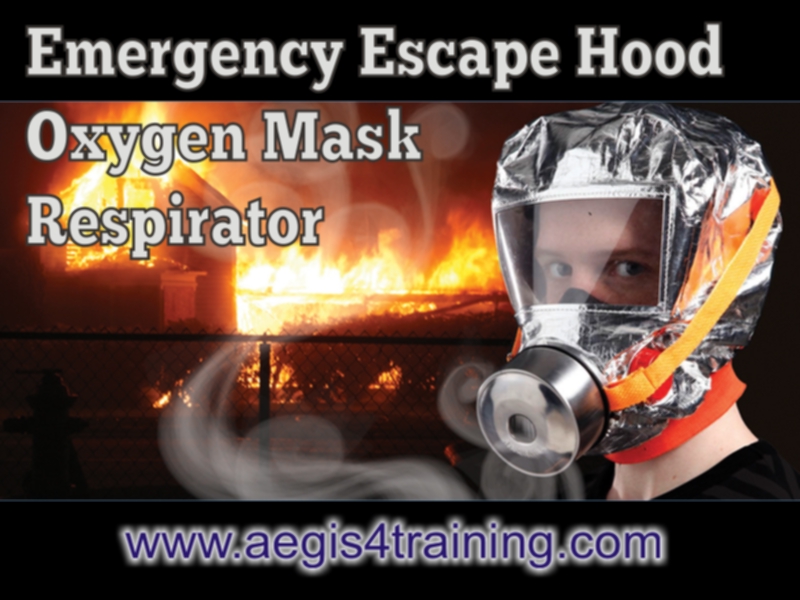 A respirator is a device to protect you from inhaling dangerous substances, such as chemicals
and infectious particles. There are several different types of respirators, as described below.
Some company and consumers are considering buying an escape hoods or other respirators to
protect themselves against potential terrorist threats, including biological and chemical
substances. This guidance will provide information on what respirators are, how they work, and
what is needed for a respirator to provide protection.
If available and used correctly, a respirator can selectively reduce the exposure you might
otherwise receive. Respirators have been used for many years in the workplace, where employers
have programs to make sure the proper masks are selected and that the respirator fits. When
consumers use respirators, they dont have such support, so this fact sheet includes lots of
background information to help consumers understand the limitations and cautions that need to
be considered. The goal is to avoid unintended problems that might occur through lack of
understanding or a false sense of security.
As a first step, plan how to respond if an emergency happens. A respirator is only one small
part of that plan. There may be situations in which its simply best to stay where you are and
avoid any uncertainty outside, a process known as shelter-in- place, as a means of survival. Use
available information to assess the situation. If you see large amounts of debris in the air, or if
local authorities say the air is badly contaminated, you may want to take this kind of action.
Respiratory protection is effective only if:
ï'· it's available when you need it,
ï'· the correct respirator is used,
ï'· you know when and how to put it on and take it off, and
ï'· you have stored it and kept it in working order in accordance with the manufacturers
instructions
Each type of respirator can come in a number of varieties, each with its own set of cautions,
limitations, and restrictions of use. Some respirators need testing to ensure a tight fit to the face,
and should not be used with facial hair. Others use a nose clip and mouthpiece, which is
clenched between your teeth, similar to a snorkel. a number of respirators prevent the user from
talking while others have speaking capabilities. Every respirator contaminated with hazardous
chemicals should be decontaminated and disposed of properly.
All respirators require training to be properly used. from time to time you can practice using
your own respirator. Some escape respirators come in a package that must remain sealed until
use, so you need to be trained using a special practice version. Training is extremely important
in regard to the storage, maintenance, use, and discarding of the respirator. This information is
provided by the supplier of the respirator (i.e. seller, distributor, or manufacturer).
If you do not use a respirator properly, it is very likely that it will not protect you-and may even