Assessing Display Screen Equipment E learning training in UK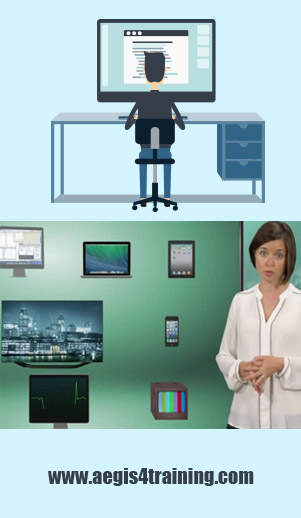 You should be aware that Regulation 6 of the Display Screen Equipment Regulations states that an employer must train every user in the hazards and safe use of workstations. If you are not training your employees, then you could be subject to an improvement notice, prosecution or an increased risk of a civil claim against the organisation. The provision of training is not a matter of choice or optional, it is an absolute requirement.
Display Screen Equipment online training from Aegis 4 Training aims to help your organisation be legally compliant with the Display Screen Equipment Regulations. It's designed to promote a culture within your organisation that encourages everyone to consider the risks associated with using display screen equipment, apply good ergonomic principles and adopt the correct work practices and postures.
The online DSEÂ training is aimed at all levels of employees who may use display screen equipment such as office personal computers, laptops and handheld devices. The module has been developed by qualified and experienced health, safety and environment professionals who have many years experience in the delivery of training solutions. The result is a high quality online DSE training solution that gives the trainee the necessary tools to meet their health, safety and environment obligations and the organisation a level of compliance through an engaging and effective learning medium.
The DSE training can be delivered online or through a computer network to each employee at their desktop or laptop or other device. We can also provide the course to be integrated into a SCORM compliant LMS. The training can be completed at the individual's own pace by 'book marking' and recording progress and returning to the training at a later stage. In delivering the training in this way the normal costs of training are reduced whilst still achieving the desired awareness and compliance with the organisation's legal responsibilities.
An invaluable feature of Aegis4training eLearning modules is our learning management system called the eSP, our eSolutions Platform. This solves the problem of compliance record keeping by recording all training and completion of courses and making these records available for you to view and manage electronically. No more struggling to find training records should you have a visit from the enforcing agency or an audit. Training certificates can be printed by the trainee once the course is completed and the end assessment successfully passed.
The DSE training course from Aegis4training helps all levels of employees meet the requirements of the 'Display Screen Equipment Regulations' by following the Health and Safety Executive's Guidance note on the Regulations L26 and ensure they are not exposing themselves to risk.