Learn how to be a designated fire marshal in no time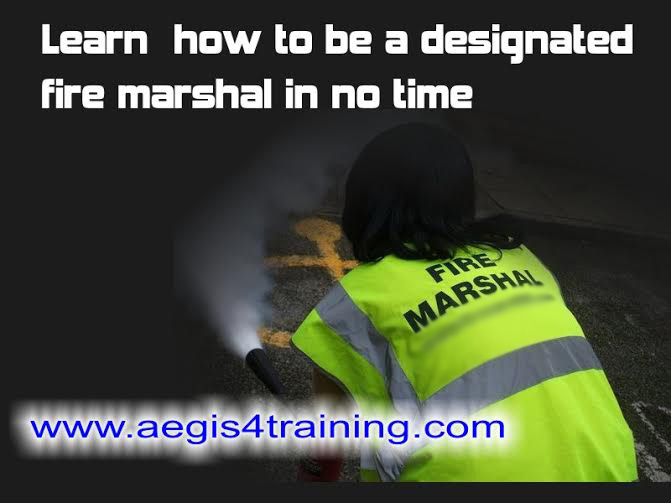 Fire Marshal Training Course is designed to provide employers and employees with adequate
knowledge of the risks associated with workplace fires, going into detail about the causes of fire,
how undertake a fire risk assessment and how you can ensure that appropriate fire safety
precautions are in place in your business.
Fire safety is important and failure to comply with government fire safety regulations could
potentially lead to prosecution, fines or legal claims. Training in fire safety is therefore
compulsory for all organisations.
Under government legislation, Recommended employees are required to take sufficient fire
mashal training, regardless of the industry they work in. This online Fire Marshal Course
provides suitable training for recommended employees.
Employers are required to ensure that employees who plays the role of Fire Marshal should
undergo fire marshal training to be efficient in dealing with fire hazard and fire risks are
identified by the risk assessment.
This course is for people training to become the designated fire marshal for their company. As a
fire marshal you must have a thorough understanding of fire safety legislation, fire safety
precautions and fire-fighting equipment: this course provides all the necessary knowledge to be
able to fulfil this requirement.
The course is divided into four accessible, interactive modules and also includes an assessment at
the end.
ï'· Fire Detection and Evacuation Procedures – fire detection and warning systems, fire
escape routes, evacuation procedures, evacuation of disabled people, emergency lighting,
writing an evacuation plan, fire drills and employee training.
ï'· Fire Risk Assessment – what a risk assessment is, identifying hazards, the fire triangle,
deciding who may be harmed, evaluating risks, recording findings, reviewing and
updating the risk assessment.
ï'· Fire Safety Responsibilities – why fire safety is important, fire safety regulations,
DSEAR regulations, who the regulations apply to, the responsible person, how to comply
with fire safety law, employee duties and enforcement of the law.
ï'· Fire Extinguishers and Safety Signs – types of fire extinguishers, how many fire
extinguishers are needed, equipment maintenance, fire safety sign regulations, types of
fire safety sign and fire action notices.
By the end of this course, you will:
ï'· Be aware of the components and causes of fire.
ï'· Understand your duties in eliminating or reducing the risk of fire in the workplace.
ï'· Understand how to ensure your business or premises complies with fire safety
regulations.
BUY OUR FIRE MARSHAL TRAINING COURSE NOW!