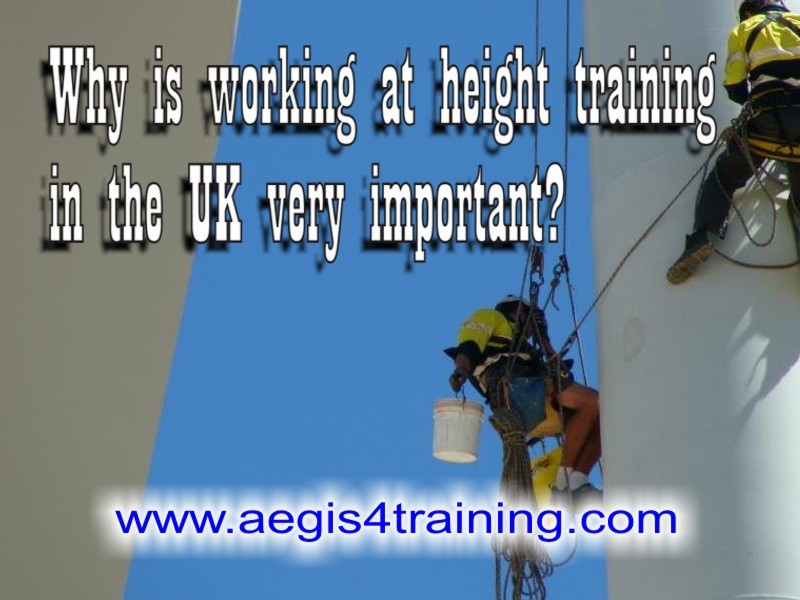 Working at height is dangerous, and in many cases because of lack of safety measures it fails.  As a trained individual and equipped to understand how to work at height safely is very important and it isn't just the construction industry where working at height should be a consideration, either. A common misconception of work at height is that of a worker hundreds of feet in the air, held on by a safety harness, but Government working at height regulation, emphasized that anybody who works at a level off the ground is working at height. Whether that be on a ladder, mobile platform or gangway, we can provide the training necessary to reduce risks and provide greater peace of mind.
The General Application Regulations 2007 is to reduce deaths and injuries at work caused by falls from height as these account for a significant percentage of workplace fatalities and serious injuries each year. This sets out the basic principles for safe work at height for all sectors of employment and provides a fundamental framework for safe working at height, based on risk assessment, applicable to the wide range of work activities carried out at height. This sets out the key requirements for safe working at height and provides guidance on the main types of work equipment available for work at height. This is for anyone directly or indirectly involved in work at height: employers, employees, supervisors, the self-employed, those in control of work premises and those involved in inspecting work equipment or sites. Those who hire out work equipment also need to be aware of the Regulations.
Employers  must do all that is reasonably practicable to prevent anyone falling a distance liable to cause personal injury.
The Regulations set out a simple hierarchy for managing work at a height:
avoid work at height where this is reasonably practicable;
use work equipment or other measures to prevent falls where you cannot avoid working at height; and
where you cannot eliminate the risk of a fall, use work equipment or other measures to
minimise the distance and consequences of a fall.
The Regulations also require employers and the self employed to ensure that:
All work at height is properly planned, organised, supervised and carried out;
The place where work at height is done is safe;
All work at height takes account of weather conditions;
Those involved in work at height are instructed and trained;
Equipment for work at height is appropriately inspected;
The risks from fragile surfaces are properly controlled; and
Injury from falling objects is prevented.
Employees need to know about work at height.
The Safety, Health and Welfare at Work Act 2005 places duties on employees to:
Comply with statutory provision such at the work at height Regulations;
Protect their own safety and health, as well as the safety and health of anyone who may be affected by their acts or omissions at work;
Ensure that they are not under the influence of any intoxicant to the extent that they could be a danger to themselves or others while at work;
Co-operate with their employer with regard to safety, health and welfare at work;
Not engage in any improper conduct that could endanger their safety or health or that of
anyone else;
Participate in safety and health training offered by their employer;
Make proper use of all machinery, tools, substances etc. and of all personal protective equipment provided for use at work; and
Report any defects in the place of work, equipment etc. which might endanger safety and health
If workers have not been trained to the correct level and if this training is not regularly refreshed, then there is a bigger risk of accidents that could be life threatening.  Assessing workers' individual requirements and providing a level of training.  The effect is a much safer working area where risks are minimized and there is much greater peace of mind for the building owner or operator."