How do I dispose of a fire extinguisher?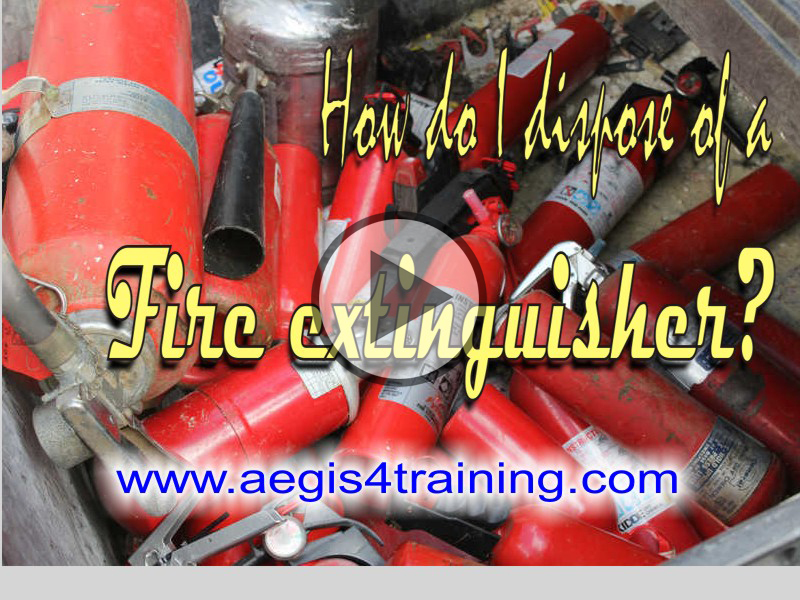 Fire Protection Recycling provide fire extinguisher disposal through the safe and guaranteed
recycling of fire extinguishers and fire protection equipment.  This service is available to
extinguisher servicing companies, business premises, leisure and retail sectors.  Councils and
public sector buildings, facilities management companies and fire fighting services in the UK
and Europe can also benefit.
Most household waste recycling centres will accept fire extinguishers and some local authorities
will accept them as a part of the regular household rubbish providing they are placed in 2 heavy
duty plastic bags and placed with the rest of the bags of waste. Many companies which supply
fire extinguishers will be happy to accept the extinguisher back so that they can refill it and
reuse the device or they can arrange for its recycling using their own approved recycling routes.
All extinguishers contain different substances which are used to dowse fires and these
substances are removed and recycled. Gases are captured and compressed and then used as
fuels, the remaining cyclinder has the valve knocked off and the metal cyclinder can then be
recycled using standard metal recycling techniques.
If the extinguisher is empty you can take it to your recycling centre or to a scrap dealer. If it is a
still full powder or foam extinguisher it is best to pass your extinguisher to the service engineers
when he /she installs new fire extinguishers even though they will probably charge you. They
will responsibly dispose of the extinguisher (foams and powders are collected and used eg for
fertilisers). If you are a home user you can add small extinguishers to the household waste. If
you have large extinguishers it is best to ring a fire safety company for a collection price.
Water extinguishers can simply be emptied down the drain, CO2 fire extinguishers can be
discharged outside into the environment (careful, this can be very loud and the jet from a CO2
can freeze things as it is extremely cold). Don't be attempted to empty large powder
extinguishers – they make an awful mess!
You have several options to dispose of old fire extinguishers.
1) Find a re cycling centre that will take them
2) If they are discharged and small you can put them in the normal waste.
3) If they are still full there are specialist companies who will take them away for
processing.
4) Advertise them on an auction website for COLLECTION ONLY. There is an interest in
old extinguishers.
On the other hand, don't rush into disposing of any old fire extinguishers that still have some
shelf life left. Safe but old fire extinguishers are ideal for fire training exercises, so your staff can
have real, hands-on experience of discharging an extinguisher in a controlled environment –
provided you have a suitable area.
Remember to take advice from your fire extinguisher manufacturer on clearing up the water,
foam or powder afterwards; only water-based extinguishers are safe to discharge down normal
drains.
Powder from extinguishers is generally biodegradeable, and can be disposed of into landfill
within sealed containers. AFFF foam can become an environmental issue if it affects
groundwater, so ensure it is washed away down sealed drains immediately (not land drains).
For more info Visit our Website!